Virtual reality used in defense force training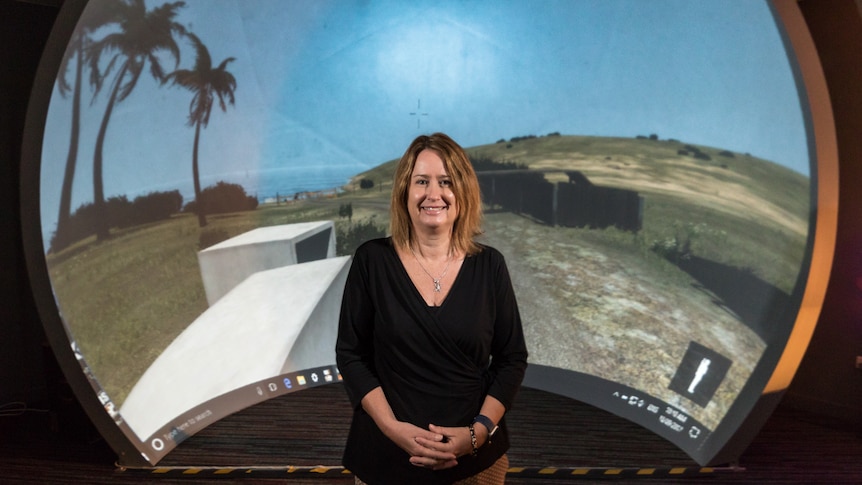 Robyn Williams: But now prolong this experience, not with serenity and bucolic happiness, but with stress. Associate Professor Karen Blackmore is a computer scientist who puts trainee frontline personnel through a simulated ringtone, using computers, films, and tests to prepare them for combat or extreme assignments. Here's how it's done at Newcastle University:
Karen Blackmore: Gone are the days of having a special room your computer lived in; we have them in our pockets, they are in our cars, they are everywhere we go. And so the game, if you will, is that you spend more time with your computing resources than with your loved ones, for most of us. If you sit back and think, we interact more with a computer these days than with human beings, just by the amount of time we potentially spend working with a computer.
So the payoff, if you will, is that if we invest so much time and energy into interacting with what is effectively a device, how can we do it better? How do we make it serve us better, how do we make it improve our lives, and how do we make the time spent benefit us?
Robyn Williams: And if you have someone from, shall we say, the Defense Forces, maybe soldiers, who knows, how would you prepare them using this technology to go into what will be their function later?
Karen Blackmore: In many situations, and especially for our defense forces, we want them to make good decisions. In fact, we want them to make good decisions, we all want them to make the best decisions possible, and we want them to be able to do that in practice, but more importantly, if they're deployed and they have to make judgment calls or they have to make decisions potentially with fairly intense or significant results, we want to know that we've prepared these people as best we can to make those decisions at the point of crisis. And so that's what games help us do, at least game-based and simulation-based technology, the same technologies that we use for training. The more people practice in very realistic situations and make these decisions, hopefully they will render them well on the field.
Robyn Williams: So if an ingenue comes along, someone who wants or needs to go into the field, and you're doing the kind of work you just described, give me a picture of what that person is going through?
Karen Blackmore: So most things are pretty straightforward. So imagine, for example, that you have enlisted in the UN peacekeeping forces and are about to be deployed to the Middle East or to an area of ​​recent conflict as part of a peacekeeping mission. You will go into this area and you will encounter things that you have never encountered before, and it could be anything as a result of conflict and especially where you have people, human suffering. It could be leftovers from military conflicts, and some of these stories could involve things like child soldiers, for example. So how do you prepare to have a conversation or an interaction with a 10 year old, a 12 year old carrying a high powered gun? So in those situations, it's the kind of really realistic stuff…it's about working with people. Most of what we do, what it looks like in preparing people, is making sure they're in the right frame of mind, well trained, to have those interactions in a really safe way.
Robyn Williams: But are they challenged enough, working on a screen, to prepare them for the real world where so much is unpredictable?
Karen Blackmore: We're trying. And I think there are real genuine efforts…and that's where my research is really intensely, how do we know? By training someone, we subject someone to a synthetic environment that's also stressful, and we do things like we measure their heart rate, we can look at their galvanic skin response, so how much they sweat, at the same time . When we are stressed, we can physiologically observe our body's reaction, so we can examine them as we subject people to synthetic training environments.
We have really fantastic helmets and equipment, we can recreate really very realistic and visually realistic environments. And there are also situations where we can consider changing the room temperature. So if you're about to be deployed overseas and you know those temperatures are going to be very high, it affects our decision-making whether we were exposed to training in those conditions.
Robyn Williams: During this training, did you have a few people who panicked?
Karen Blackmore: People freak out, and I guess that's good to know too. And one of the issues we have is with things like PTSD. We see the huge ramifications of this everywhere…and it's not just our defense forces, our first responders, our police force personnel are also often faced with things in their work environment that then lead to PTSD. And so part of that is maybe also because of very intensive and very realistic training, people can identify with and actually say that this is not something that is for me. We can also, over time, expose people to the idea that if we help people better understand how they physiologically respond to a task or environment in a synthetic world, we hope we can better prepare people to do it in the real world.
Robyn Williams: It reminds me a bit of pilot training, you know, you suddenly find yourself sitting down and you're in charge of a jet that's going to land, you have to make decisions and in real time, it can be difficult. Is it something like that?
Karen Blackmore: Yeah, absolutely, and if you look back, one of the fantastic uses of simulation that I've seen and remember is the Apollo 13 mission, and how those simulators…they had been used for training but have actually been moved…
Robyn Williams: Houston we have a problem.
Karen Blackmore: That's exactly it, but at that point, those same simulators that had been used to train 100 people in any number of possible scenarios never trained them for the scenario they experienced. But then they were able to run this scenario in these simulators and find a solution here and send it to space. It's that kind of stuff, it's amazing.
Robyn Williams: It was Tom Hanks, wasn't it?
Karen Blackmore: It was Tom Hanks.
Robyn Williams: Yes, Apollo 13. Someone told me the story that they had the front of the rocket on the ground in Houston, or wherever it was, NASA, and someone lifted it up with a really big crane without unbolt the front of the rocket, and so there were 11 things that exploded, and they fixed nine of them, and of course the temperature control of the tank that then exploded, containing the oxygen, I think it That's pretty much what the Apollo 13 disaster was all about, and that's what they had a problem with when they called Houston. But cool…have you seen the movie at all?
Karen Blackmore: Yes, I saw the movie.
Robyn Williams: Was it realistic, was it good?
Karen Blackmore: I thought it was good. The physical structures were there, but essentially the computer systems that ran in the simulators were very realistic. Most importantly, when it mattered, they could be reconfigured to represent the real-world scenario. And so it speaks to what I do; how can we recreate a real world in a way that can be used effectively to train and prepare people?
Robyn Williams: And can it be applied externally to other things like daily life and adolescent education etc. ?
Karen Blackmore: I think so. If we've created a scenario that's useful enough, then again, you've probably found something really useful, Robyn the Parent Simulator, where we could step in and practice our skills in raising rebellious teenagers. It could be a marketable product for all of us.
Robyn Williams: Well, what kind of ologist can I call you… you know, a psychologist, a computer scientist, or what?
Karen Blackmore: I am a computer scientist, yes, just a good old computer scientist.
Robyn Williams: Oh good? Add some psychology, a bit of history, and a bit of Tom Hanks, show business, and you have this mix of talent that represents modern science ready to go. Associate Professor Karen Blackmore at Newcastle University.