Virtual reality film White Terror wins top prize at Venice Immersive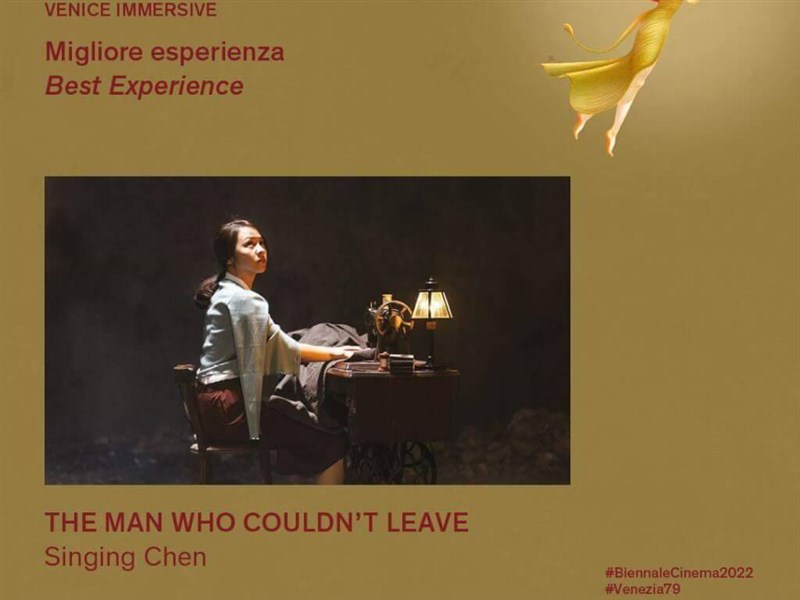 Taipei, Sept. 11 (CNA) "The Man Who Couldn't Leave (無法離開的人)", a virtual reality film exploring Taiwan's White Terror period in the 1950s, won the top prize at the Immersive Venice event at the 79th Venice International Film Festival, the Taiwan Creative Content Agency (TAICCA) announced on Sunday.
Alongside two other entries featuring Taiwan — Red Tail (紅尾巴)" by Golden Horse-winning animator Fish Wang (王登鈺) and "All That Remains" (遺留) by multimedia artist Craig Quintero — the film participated in the 2022 Venice Immersive, the extended reality section of the Venice International Film Festival.
During the judging between August 31 and September 10, the three films received a positive reception from the members of the jury May Abdalla, David Adler and Blanca Li, and were in the running for the grand jury prize, the special prize of the jury and the first prize. for the best experience.
In the end, "The Man Who Couldn't Leave" was named the best of 30 entrants and won first prize.
In winning the award, the film's director Singing Chen (陳芯宜) said the project was made in honor of those who sacrificed for freedom in the 1950s during the government's suppression of political rights. Kuomintang in Taiwan.
Chen has previously said that the subject matter of the White Terror era lends weight to his virtual reality film, with the dark violence of the era made all the more palpable through the use of an immersive presentation.
In his speech, Chen then thanked the National Museum for Human Rights for commissioning the film, saying it took two years of hard work to complete the film.
Culture Minister Lee Yung-te (李永得) also congratulated Chen on winning a major international film award.
According to the Ministry of Culture, Chen's victory marked the second time that one of the Taiwanese participants won an award at Venice Immersive, after winning the award for best experience for director Huang Hsin-chien (黃心健) and "La Camera Insabbiata" by artist Laurie Anderson. in 2017.