Nextech AR launches version 2.0 of its augmented reality music application "AiR Show"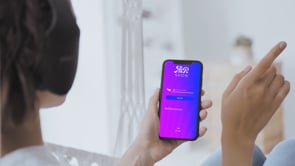 In Augmented reality news
February 12, 2021 – Nexttech RA Solutions, a provider of augmented reality (AR), virtual event live streaming experiences and services for 3D advertising, e-commerce and education, recently announced the release of version 2.0 of its application " AiR Show ", an app that allows users to watch performances of real people in their own homes and turns musical artists into a" live "hologram that users can interact with, delivering an immersive and engaging augmented reality experience.
Nextech said that with this version 2.0 and version 2.1 soon to be released, its AR AiR Show app is preparing to become a full-service, AI-driven app with no green screen required so users can create human holograms powered by AR anywhere and by anyone. Human AR holograms will be shareable on social platforms such as TikTok, Instagram, and Twitter. The company added that it was also successful in testing and pursuing additional technological advancements within AiR Show, including live streaming of human holograms.
AiR Show 2.0 includes two major feature additions, integration of QR code scanning and in-app shopping capabilities. When scanned, a QR code takes a user directly to an experience within AiR Show and can be shared via email, social media, or in print. In-app purchasing capabilities will allow users to purchase premium content. New versions of the application are available on ios and Android and can be synced with Nextech's Virtual Experience Platform (VXP) and other product offerings.
Additionally, the Nextech team is currently working on integrating virtual locations into the app, giving users the ability to view holograms in an interactive 3D space, with the goal of creating a truly immersive concert experience. In the aftermath of COVID19, live performances were almost completely shut down, which opened the door for virtual music events and the use of AR for VIP interactions, according to Nextech.
Commenting on the latest version of the app, Elliott Rothman, Director of Interactive Experience at Nextech AR, said, "We are continually making fundamental changes to the app to create realistic and shareable moments that will bring users together for an experience. unforgettable. With the latest features from AiR Show 2.0, we are creating consistency across all of our mobile apps, and this is just the first of many improvements we have underway.
Evan Gappelberg, CEO of Nextech AR added, "Our team has worked hard to develop the latest technological enhancements to bring interactive AR music experiences to the homes of millions of people around the world and with the release of upcoming AiR features. Show, we're on the right track. become the leader in next generation entertainment. Beyond entertainment, we are seeing huge commercial use cases for our live human holograms considered the "holy grail" of AR.
"Just imagine that instead of a Zoom call using our AiR Show app, you just walk over to someone's office or home and stand in the room with the other person as if you were actually there, but instead you are on the other side of the country or the world. I think the technology we are developing and launching soon really has the potential to change the world!
To learn more about Nextech AR's augmented reality solutions, please visit the company website website.
Video Credit: Nextech AR / Vimeo