Grubhub teams up with a reality show for a new virtual storefront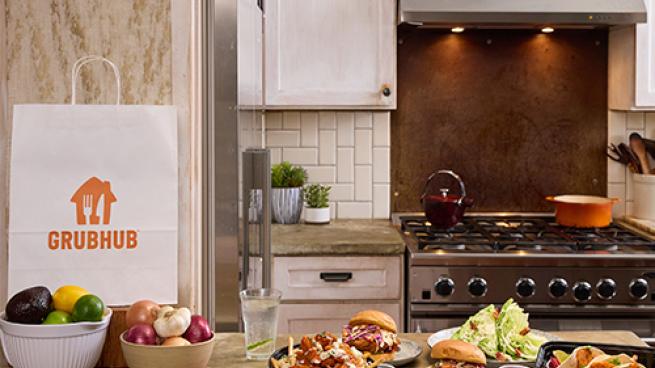 Viewers of a popular cooking-themed TV show can now order recipes from their favorite contestants.
Grubhub is launching MasterChef Table, a virtual delivery-only restaurant featuring recipes from winners and participants of the "MasterChef" culinary competition program Kelsey Murphy, Dorian Hunter, Gerron Hurt and Michael Silverstein. Havelable in more than 20 markets across the United States, MasterChef table offers 11 gourmet dishes, with starters, sides and main courses, created by the selected candidates.
Later this season on "MasterChef," contestants will receive a Grubhub-themed "Mystery Box" challenge, where contestants must create gourmet versions of the most popular dishes on the online food delivery market.
Grubhub pursues showcase partnerships
Grubhub's new collaboration with "MasterChef" builds on the company's ongoing efforts to create virtual storefronts in collaboration with partners, including its recently announced Grubhub Goods locations available for on-demand delivery nationwide. Offered in partnership with 7-Eleven, Grubhub Goods offers a selection of 7-Eleven's most popular convenience items, including energy drinks, ice cream and personal care products, delivered by Grubhub drivers.
This expansion to thousands of Grubhub Goods locations in collaboration with 7-Eleven builds on the Grubhub-owned Grubhub Goods location in Brooklyn, NY, where inventory and delivery are managed by Grubhub.
"We are always looking for ways to provide new experiences for diners. Our partnership with MasterChef gives them exactly that, a seat at the table in the comfort of their home," said Marnie Boyer, vice president of restaurant acquisition. at Grubhub. "The MasterChef Table virtual restaurant adds more delicious food options to Grubhub's wide range of restaurants and provides an additional revenue stream for our restaurant partners."
"The dishes we create on 'MasterChef' are loved by a few legendary judges, but as a chef, I always want as many people as possible to experience my culinary creations," said MasterChef Season 11 winner Kelsey Murphy. "With MasterChef Table, Grubhub is giving me and a few of my favorite chefs the special opportunity to share our unique twists on comfort food with fans and diners across the country."
"We are thrilled that for the first time, through this groundbreaking partnership with Grubhub, MasterChef fans will now have the ability to order menu items created by their favorite MasterChef contestants and winners through the Grubhub app," says Tamaya Petteway. , senior VP, brand and digital partnerships, at "MasterChef" production company Endemol Shine North America. "And we're also thrilled that, through MasterChef Table, MasterChef will be introduced to Grubhub's active database of 'foodies' and consumers who enjoy new culinary experiences while dining at home."
To celebrate the MasterChef table, Grubhub is running a raffle, giving a few participating guests an exclusive at-home experience, including a unique MasterChef-themed table, a full-service butler, and an assortment of Tableware MasterChef.
Grubhub was acquired by Netherlands-based global online food delivery marketplace Just Eat Takeaway in 2020 and has over 320,000 partner restaurants in over 4,000 US cities.