Central Huron Secondary Virtual Reality Pilot Program a Success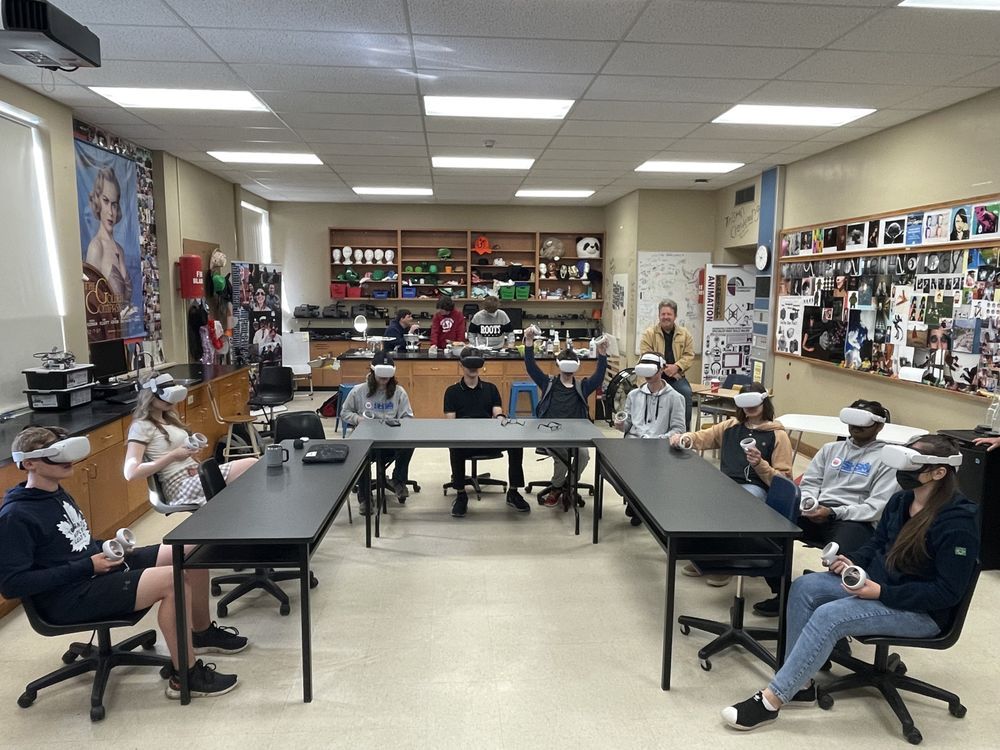 Content of the article
Students at Central Huron High School (CHSS) experienced connecting to professionals through a virtual reality pilot program.
Content of the article
The pilot program ran twice a week for six weeks, and Waterloo-based software development company Toon Rush Inc. temporarily donated the hardware and software to the students.
Dan Hawes of Toon Rush Inc., with offices in Waterloo and Stratford, develops applications for animated games and virtual reality.
The company's latest development is a software package, which is a virtual university. It is being used at Ryerson University and Carleton University on a trial basis.
"We thought it would be good to try it in secondary schools," Hawes said.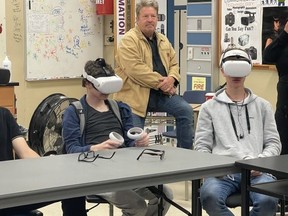 "There was a course called 'Film and Animation' and we thought it wouldn't be great if we created a course that connected kids to experts."
Hawes brought in directors and managers for several sessions that the students were able to interact with.
A teacher at Ryerson and Carleton, Hawes wanted to explore the use of virtual reality with high school students.
"We found that Clinton was quite advanced in their technology deployment, so we wanted to try Clinton, as a good example," he said.
"I don't know of any other high school that does this, but at different universities it's starting to happen."
Already in the VR business during the pandemic, Hawes thinks people have grown tired of Zoom meetings. This software package has taken it to the next level.
"Instead of sitting there and staring at a screen, you're actually in space interacting with people," he said.
Content of the article
"For the basic use of bringing people together, it was wonderful and people really enjoyed it."
With employees all over the world, Hawes and his team meet every day in a VR setting. Toon Rush has been hosting virtual reality meetings for nearly three years, but Hawes is now wondering how it can be integrated into education and made accessible to students.
Hawes said the next step is to take what they learned from the pilot program and take it to the next level in terms of implementing VR in a program.
One of the biggest solutions for carbon emissions, Hawes says, is getting people off the road and being able to connect virtually and removing travel for basic business meetings will take cars off the road.
"Similarly with schools, I think you'll start to see schools moving more to a hybrid, so maybe they're in class three days a week and doing things remotely two days a week. That's what some companies are doing," Hawes said.
"For two years during COVID, we [Toon Rush] have a wonderful office in Waterloo that was empty. I think you're going to start to see this hybrid coming into education and that's when devices that connect you to common spaces will become important.
Jaqcui Morley, the communications and technology class teacher at Clinton High School, said the 11th and 12th graders participated in and enjoyed the virtual reality pilot program.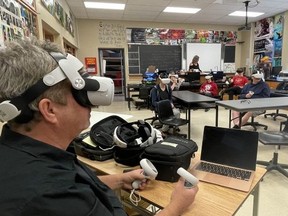 "It's learning anywhere. Typically, we wouldn't have access to these professional animators and filmmakers," Morley said.
Content of the article
"These people would establish a direct link with these students. They really appreciated this access to these people.
According to Morley, who has been asking for virtual reality headsets for her class for years, it just hasn't been feasible. For students to be exposed to this type of learning through the Toon Rush pilot program, it was important to overcome such a learning curve before post-secondary.
"For them to go into a school and never have done that would be a disadvantage," Morley said.
"It was indicated that if it was popular and the students had a good experience, funding to continue could be considered."
Patrick Denys, a 12th grade student, will be attending university next year and is happy to have gone through the learning curve of virtual reality courses before his post-secondary studies.
"It was really nice. I like the fact that we were able to experience this before post-secondary. I've completed the learning curve," Denys said.
"In the future, I can definitely see a lot more universities offering it. If someone can introduce you and your entire class to the world of virtual reality, that's powerful. »