Cave Story Publisher to Release Virtual Reality Music Visualizer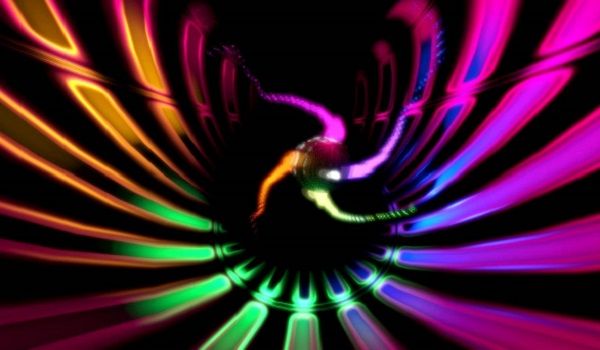 [ad_1]
Man, music visualizers are so Last year. Do you know what hip kids are these days? Virtual reality music visualizers. At least that's what the developer Nicalis is betting on Dimensional intersection, an interactive visual circus coming to helmets around the world.
If the name Nicalis rings a bell, it's probably because they are the ones who released the beloved side-scrolling platformer, History of the cave, as well as games like The bond of Isaac and 1001 points. If you had asked me this morning what the team is working on these days, I certainly wouldn't have said a music visualizer for Oculus and the PlayStation VR headset called Dimensional intersection.
Just keep this "VR" part of the equation in mind when watching this trailer. It might seem like a standard music visualizer at first glance, but once you remember that the thing is 3D, interactive, and will be attached to your face, it makes the whole thing twice as appealing.
While it might not be a typical game or even an app that most people use on their various devices these days, something like Dimensional intersection could be a great way to show what virtual reality is all about.
Nicalis announced Dimensional intersection earlier today, saying RV owners will soon be able to "experience an intensely visual, ever-changing world" that will sync with music. As for the artists on the soundtrack, expect to hear tunes from Soulacybin, Land Switcher and MONS. Their songs will feature handcrafted scenes made up of interactive fractals that players can manipulate in real time. Perhaps it would be better for Tyrone Rodriguez, founder of Nicalis, to explain it himself.
Okay, maybe I was wrong to say things got clearer after that. My next assignment today is to research "psytrance" and see if I can't figure out what I'm getting into. Dimensional intersection. If I am going to join some insane music cult, I would like to know all the details in advance.
Honestly, it sounds like we're talking about some pretty trippy VR worlds that evolve to the beat of the music, which I'm fundamentally disgusted with. If we talk about Ground for a new generation of material, you can register me.
Dimensional intersection is slated to launch this fall, so it should be available just in time for the PlayStation VR launch. If you're going to have an Oculus by then, maybe add it to your list of games to watch.
[ad_2]